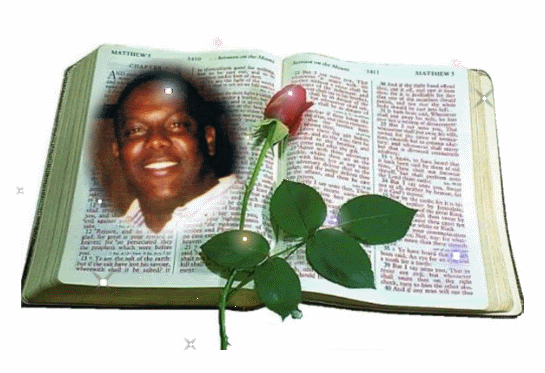 This memorial web site was created in the memory of our loved one, Antonio Williams, who was born in Mississippi on November 17, 1969 and passed away on April 30, 2004 at the age of 34. We will remember him forever.


Antonio LaSalle "ToneJones" Williams was born November 17,1969
To Ms. Emma Howard and Mr.R.L.Summerville in Greenwood,Mississippi.



The memory of one so dear,whose life stood as a
guiding star and symbol of love.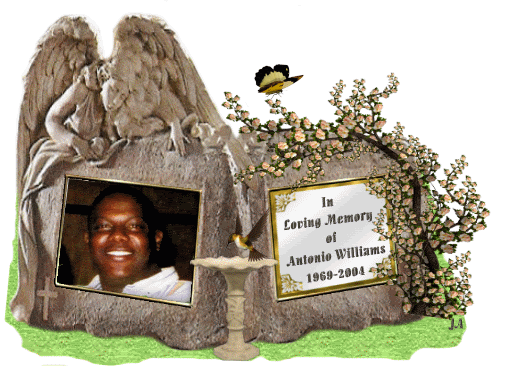 Please lite a candle or pay tribute for Antonio
before you leave.
Thank You for visiting our Beloved Son
And Father.


I'M STILL HERE - WILLIAMS BROTHERS
This is a song Tony wanted me to listen to on a CD a couple of days before he was killed.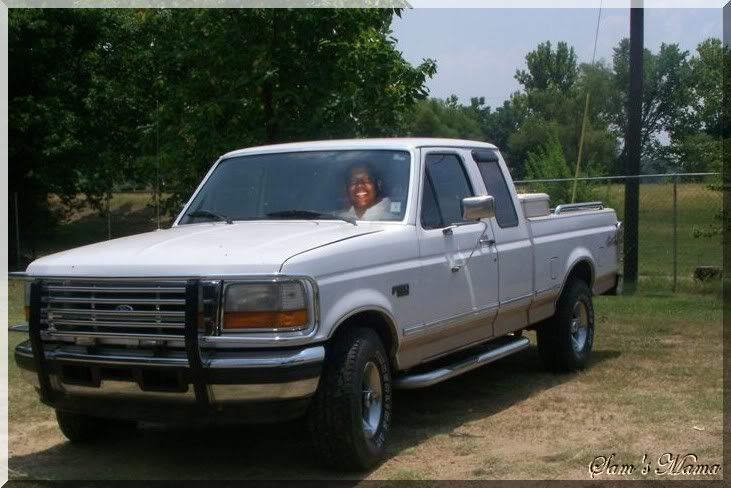 Tone's Truck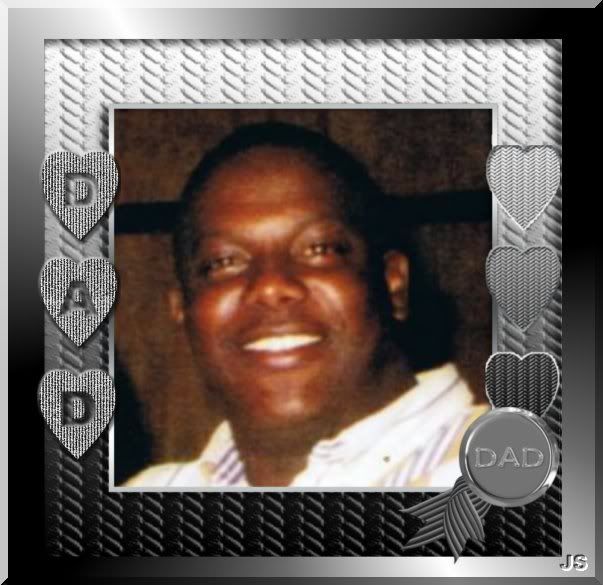 Happy Father's Day in Heaven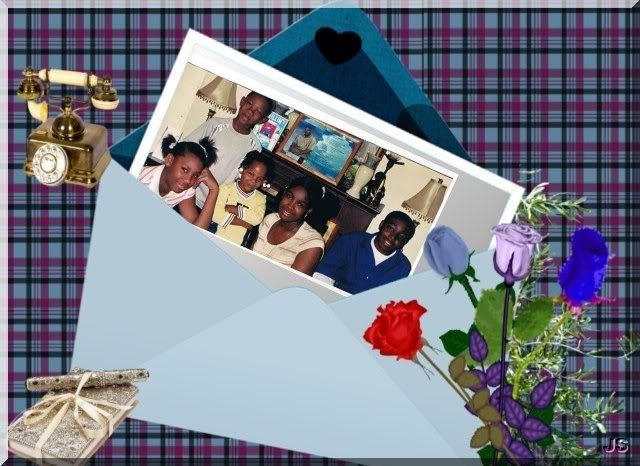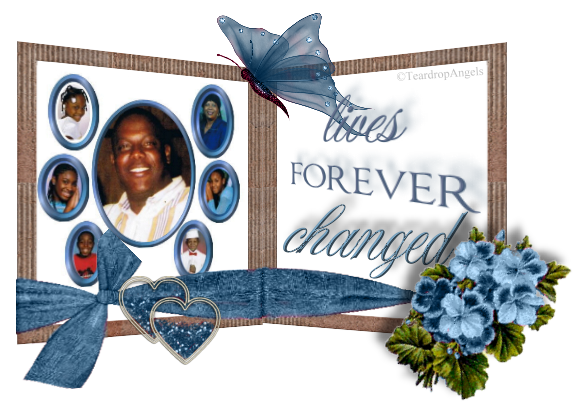 Remember Me Always


To the living, I am gone.
To the sorrowful, I will never return.
To the angry, I was cheated.
To the happy, I am at peace.
To the faithful, I have never left.
I cannot speak, but I can listen.
I cannot be seen but I can be heard.
So as you look in awe at a mighty forest and its grand majesty,
Remember me.
Remember me in your heart, your thoughts, and your memories.
Of the times we cried, the times we fought, and the times we laughed.
For if you always think of me, I will never have gone.

~Anon

Message from Heaven


I have not turned my back on you,
So there is no need to cry,
I am watching you from Heaven,
Just beyond the morning sky;
I have seen you almost fall apart,
When you could barely stand,
I asked the Lord to comfort you,
And I watched him take your hand.
He told me you were in more pain,
Than I could ever be,
He wiped his eyes and swallowed hard,
Then gave your hand to me;
Although you may not feel my touch;
Or see me by your side,
I've whispered that I love you,
While I wiped each tear you cried.
~Author Unknown~



We Love and Miss You Daddy!!

My Son Tony giving me away at my wedding, November 25, 1995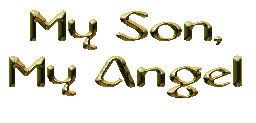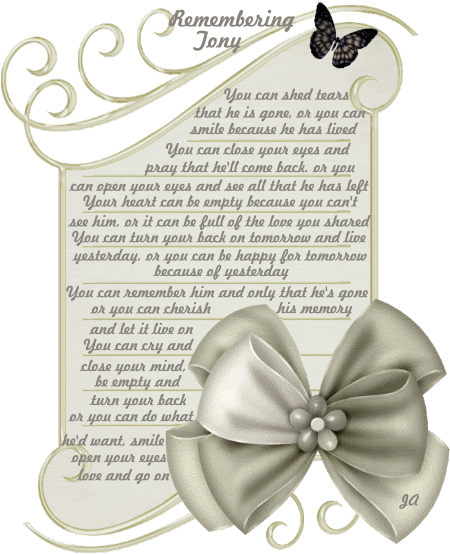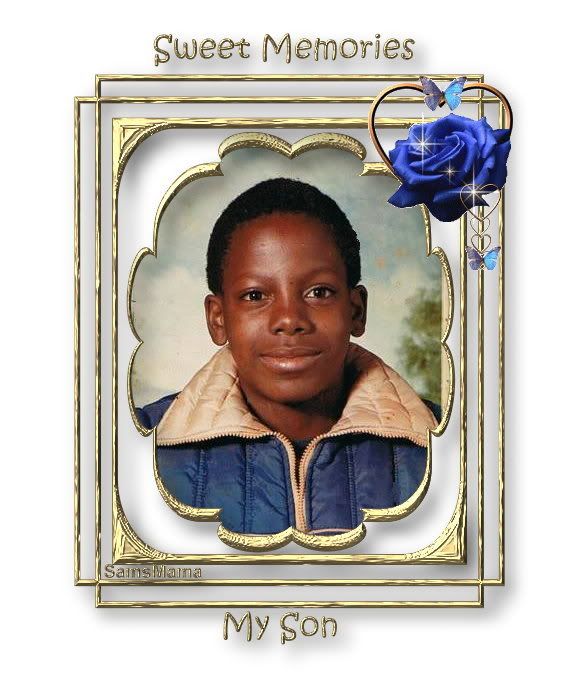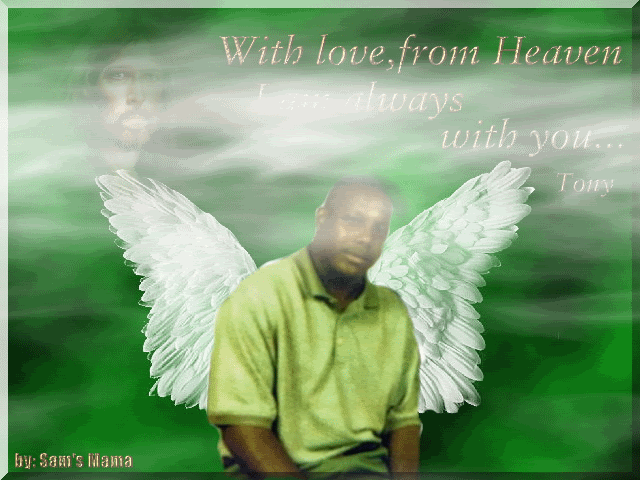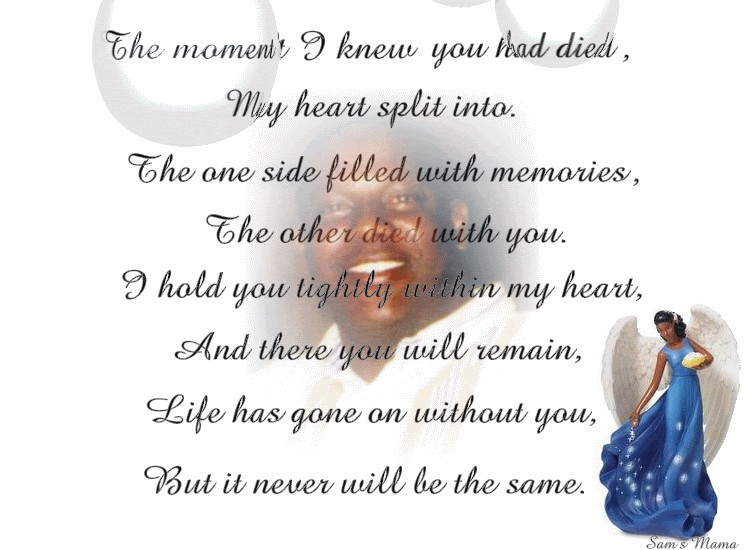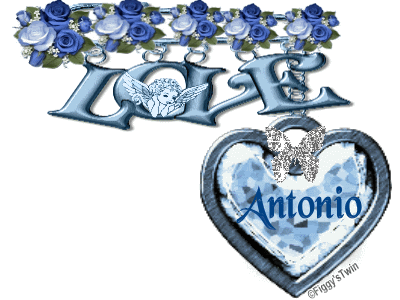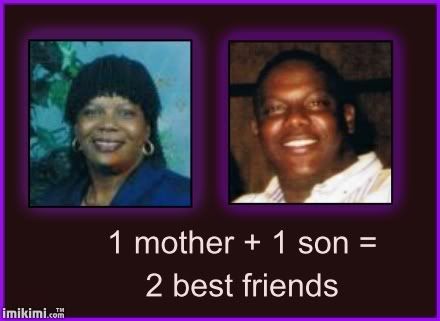 NO WORDS I WRITE CAN EVER SAY


HOW MUCH I MISS YOU EVERY DAY.
AS TIME GOES BY, THE LONELINESS GROWS;
HOW I MISS YOU, NOBODY KNOWS!
I THINK OF YOU IN SILENCE,
I OFTEN SPEAK YOUR NAME,
BUT ALL I HAVE ARE MEMORIES
AND PHOTOS IN A FRAME.
NO ONE KNOWS MY SORROW,
NO ONE SEES ME WEEP,
BUT THE LOVE I HAVE FOR YOU
IS IN MY HEART TO KEEP.
I'VE NEVER STOPPED LOVING YOU
I'M SURE I NEVER WILL;
DEEP INSIDE MY HEART,
YOU ARE WITH ME STILL.
HEARTACHES IN THIS WORLD ARE MANY
BUT MINE IS WORSE THAN ANY.
MY HEART STILL ACHES AS I WHISPER LOW,
"I NEED YOU AND I MISS YOU SO."
THE THINGS WE FEEL SO DEEPLY
ARE OFTEN THE HARDEST TO SAY,
BUT I JUST CAN'T KEEP QUIET ANY MORE,
SO I'LL TELL YOU ANYWAY.
THERE IS A PLACE IN MY HEART
THAT NO ONE ELSE CAN FILL,
I LOVE YOU SO....Tony
AND I ALWAYS WILL.



-AUTHOR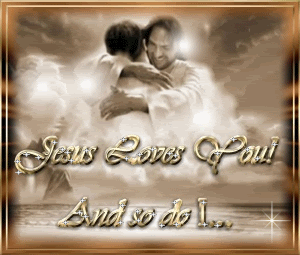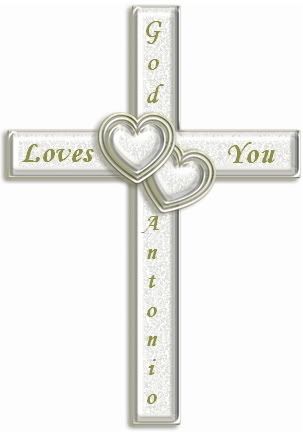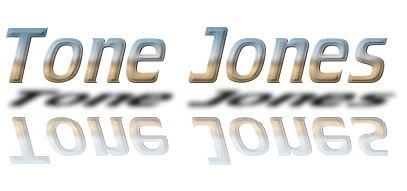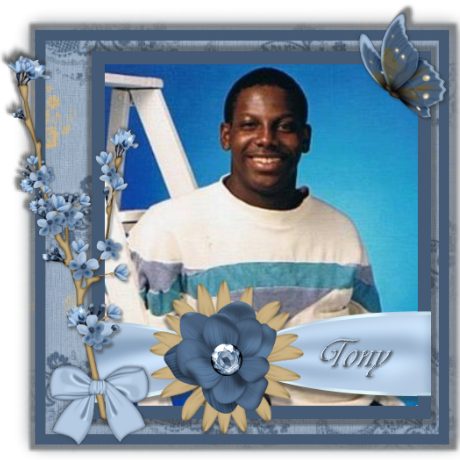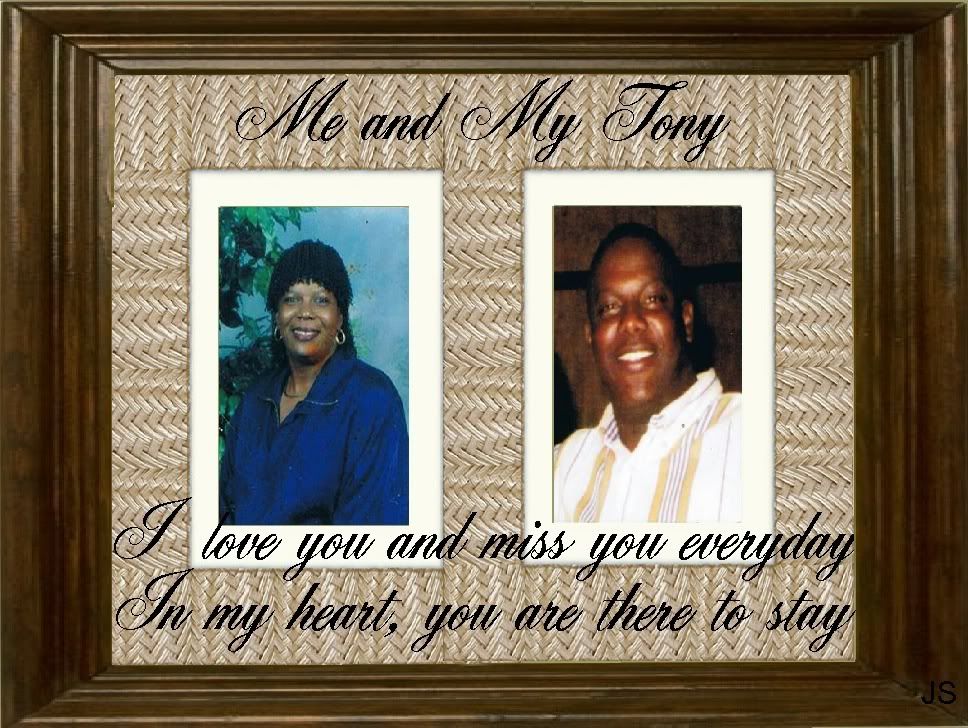 Thought Of You

I thought of you with love today, but that is nothing new.
I thought about you yesterday, and the day before that, too.
I think of you in silence, I often say your name,
But all I have is memories and your picture in a frame.
Your memory is my keepsake, with which I'll never part.
God has you in his keeping, I have you in my heart.
I shed tears for what might have been, a million times I've cried.
If love alone could have saved you, you never would have died.
In life I loved you dearly, in death I love you still,
In my heart you hold a place noone could ever fill.
It broke my heart to lose you, but you didn't go alone,
For part of me went with you,the day God took you home.
~ Author Unknown ~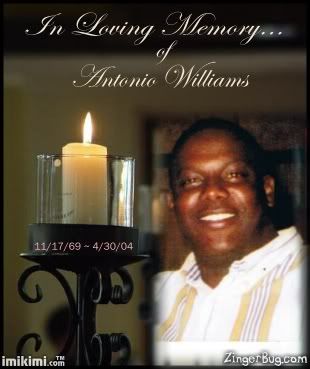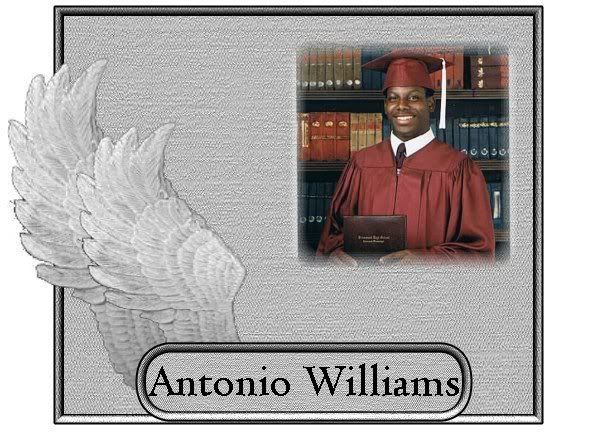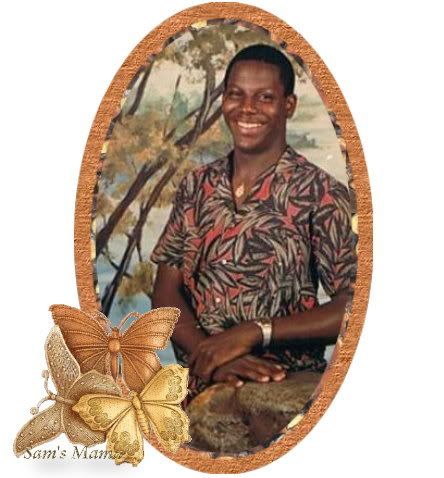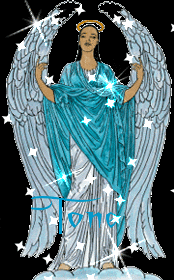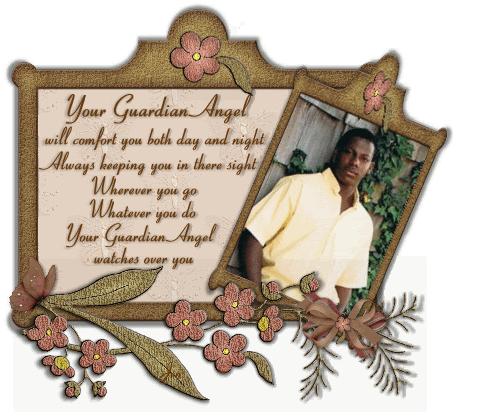 I'm Everywhere




Please don't mourn for me I'm still here,
though you don't see I'm right by your
side each night and day
And within your heart I long to stay
My body is gone but I'm always near
I'm everything you feel, see or hear
My spirit is free, but I'll never depart
As long as you keep me alive in your heart
I'll never wander out of your sight
I'm the brightest star on a summer night
I'll never be beyond your reach
I'm the warm moist sand when you're at the beach
I'm the colorful leaves when fall comes around
And the pure white snow that blankets the ground
I'm the beautiful flowers of which you're so fond
The clear cool water in a quiet pond
I'm the first bright blossom you'll see in spring
The first warm raindrop that April will bring
I'm the first ray of light when the sun starts to shine
And you'll see that the face in the moon is mine
When you start thinking there's no one to love you
You can talk to me through the Lord above you
I'll whisper my answer through the leaves on the trees
And you'll feel my presence in the soft summer breeze
I'm the hot salty tears that flow when you weep
And the beautiful dreams that come while you sleep
I'm the smile you see on a baby's face
Just look for me, I'm everyplace...


A mothers Prayer
An emptiness that I now feel,
since you left I love you still.
For you the pictures I have drawn,
but my pain goes on and on.

I miss you now, but your with God
And I know your near.
Listen as I pray at night,
for you will always hear.

If I had one wish come true,
My only wish would be for you.
To hold you in my arms once more,
Tell you I love you, forever and more.

And now my son if I may near,
Imp saying that I love you dear
with all my loving heart,
I'll never forget you,
I loved you from the start!

Sara Gantlet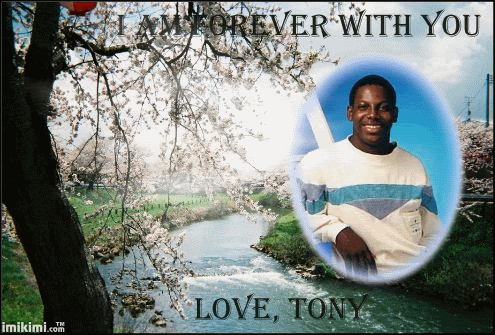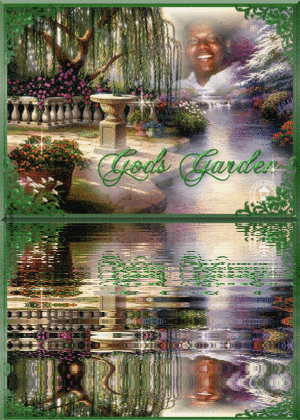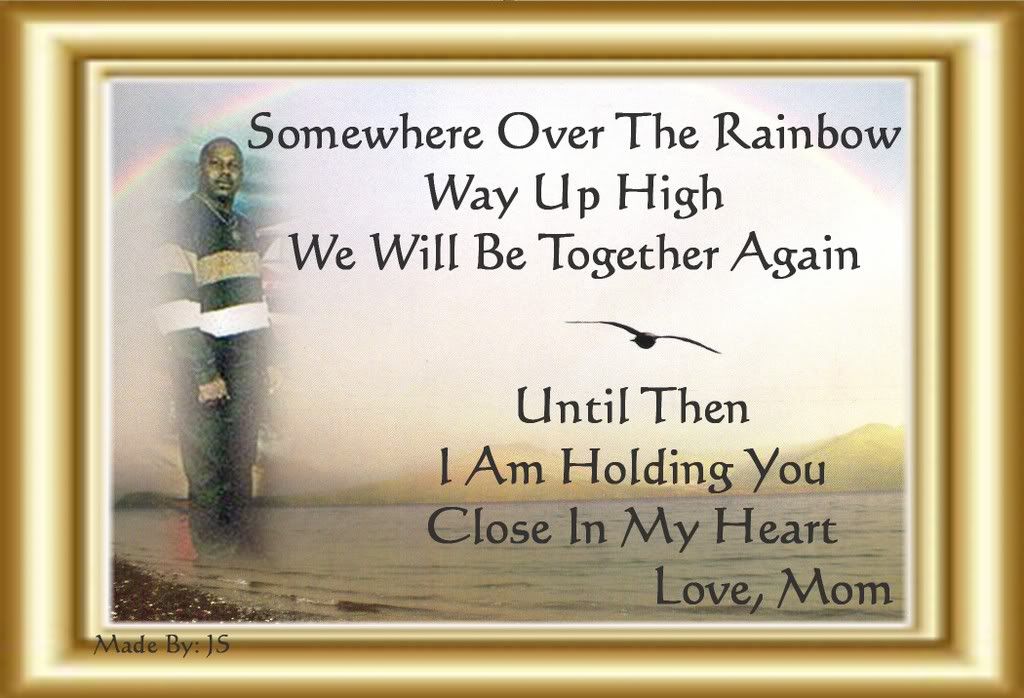 He has gone across the river
To the shore of ever green,
And we long to see his dear face,
But the river flows between.
Some day, sometime, we shall see
The face we loved so well,
Some day we'll clasp his loving hand
And never say farewell.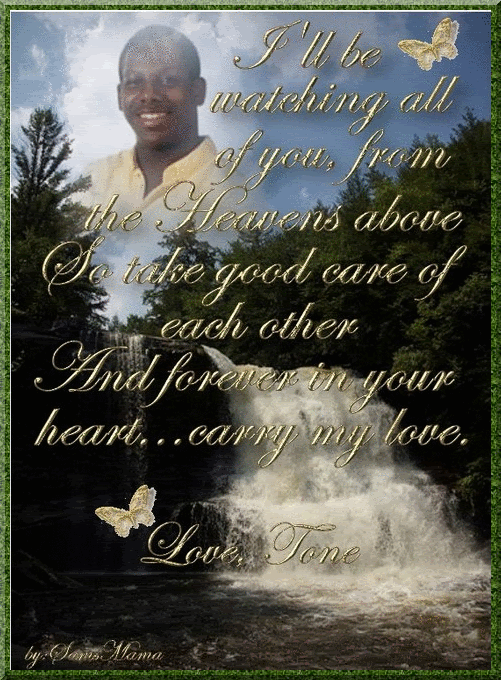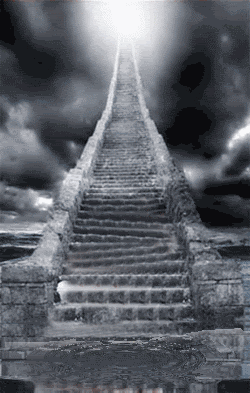 Stairway To Heaven

If tears could build a stairway
and memories were a lane
We would walk right up to heaven
Ang bring you back again.
No farewell words were spoken
No time to say goodbye
You were gone before we knew it
And only God knows why
Our hearts still ache in sadness
and secret tears still flow
What it meant to lose you
No one will ever know
But now we know you want us
To mourn for you no more
To remember all the happy times
Life still has much in store
Since you'll never be forgotten
We pledge to you today
A cherished place within our heart
Is where you'll always stay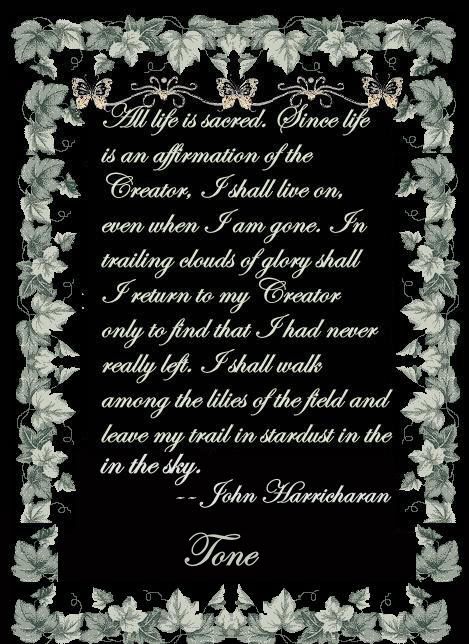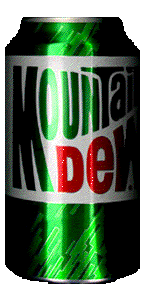 299-4155


This site can never be completed. We are still uploading information daily. If you have any photos or videos of ANTONTIO "TONE JONE" WILLIAMS Please give a helping hand and contact the Web Manger by clicking the Edit Site tab. Your photos, videos, or any information received will be uploaded to this site and
returned return back to you. THANK YOU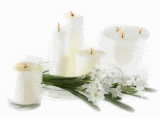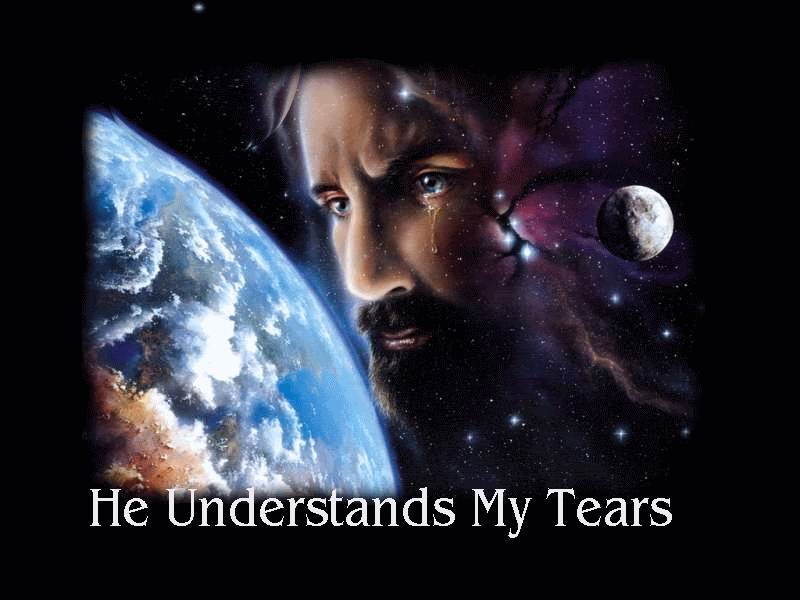 Please visit this site and request to be a pal to Tone:
http://www.jeanneshouseofangels.com/angelpals.html

Please use the following link for "Amber Alerts". It may save a child:

http://codeamber.org/gomesfl/